Practitioner Partnership Program

Assist your patients achieve Health & Wellbeing
The cellular and tissue damage caused by excess free radicals can challenge our ability to maintain a healthy body & mind. Oxidative stress can lead to premature aging and reduced immunity, affect muscle recovery and energy production. You can now help your patients support their innate immunity and cellular glutathione levels in their body with Continual-G®. GLUTATHIONE is the master antioxidant that protects every cell of our body from the dangers of damaging free radicals!
World's Only Supplement Brand With Glyteine®
Clinically proven "
Continual-G®
" contains Glyteine®, a proprietary form of gamma glutamyl cysteine. Continual-G® is the world's ONLY supplement brand that contains Glyteine®. A single dose of Glyteine® can increase cellular glutathione levels within hours. No other supplements including glutathione, liposomal glutathione and NAC have been shown to increase cellular glutathione!
2 Decades Of Research
It has taken us over 20 years of intensive and dedicated research and development to make this product available to you. Each drink mix sachet of Continual-G® contains 415 mg of Glyteine®. Two sachets a day is the General Recognized as Safe (GRAS) recommended upper intake of the active ingredient. Our published
human clinical bioavailability study
demonstrated that oral administered Glyteine® will increase cellular glutathione over a period of up to 7 hours with peak levels being reached within 2-3 hours.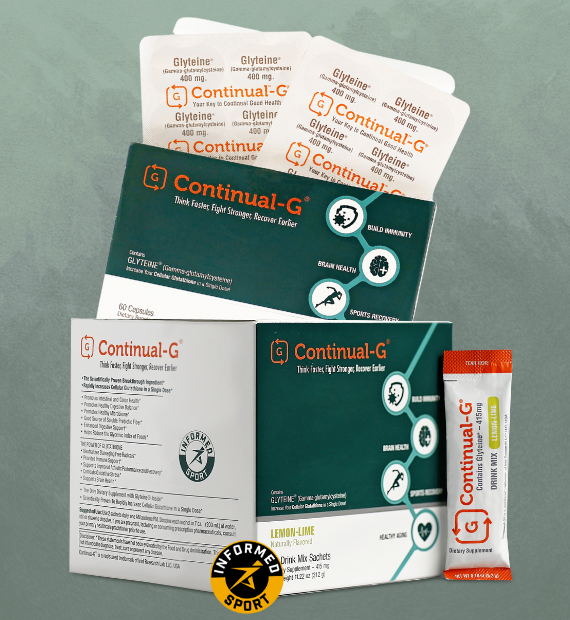 Benefits Of

CONTINUAL-G®
Brain Health

Healthay Aging

Supports Immunity

Increases Healthspan
Boosts Cellular Health

Improved Athletic Performance

Faster Muscle Recovery & Endurance

Improves Skin Glow & Skin Hydration
Trusted by Health professionals
I love this product. I feel amazing after only 5 days use. I am 82 years young now, instead of 82 years old. The difference in my energy, interests drive, gastrointestinal issues has been nothing short of astonishing. Each day I feel better and better and my sleep difficulties are resolving without resorting to melatonin. The taste of the product is perfect. I prefer my dose in ice water which reminds me of lemon-lime aide.
Dr. Kathleen Oleson
Exclusive Offer
For Health Care Professionals
Buy in Bulk for your patients at a special price!
Register Now
*Read the Terms & Conditions for Continual-G Practitioners Program